My Team
Pete Leone and his team take customer service very seriously.  Together we are committed to providing exceptional care to all of our clients.
Our team comes from various backgrounds and offer an assortment of distinct skills.  We provide an unequaled, well-rounded and effective approach to assisting our clients.
To expedite your service related issues, please contact my team of specialists below.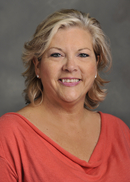 Katie J Makey
Associate Wealth Management Advisor
Office 847-693-2253

What can Katie do for you?
Katie specializes in the investment division of Pete's business, facilitating all clients with support relating to their accounts, whether through Northwestern Mutual Investment Services or the Northwestern Mutual Wealth Management Company.
Katie is responsible for the submission, servicing  and support of all investment related applications and accounts.
 "Pete and I have been working together since 2004.  I have been licensed for Life and Health Insurance since 2005.  I became a securities registered financial representative with Northwestern Mutual Investment Services and associated person of the Northwestern Mutual Wealth Management Company in June 2009, after I successfully earned my Series 7 & 63 licenses.  Since then I have completed the required education to advance from an Associate Financial Representative to an Associate Wealth Management Advisor.
I have more than 30 years of customer relations experience and I love my career!  I enjoy knowing that I provide a level of great service to everyone that I have the privilege of working with. "
"The best minute you can spend is the one you invest in people" - Ken Blanchard